RTD replaces Registration Card with Vehicle Ownership Certificate
Posted on June 3, 2016 by admin in General News

The Road Transport Department (RTD) has introduced the Vehicle Ownership Certificate (VOC) to replace the vehicle Registration Card (RC) for implementation in stages, beginning 1 June 2016.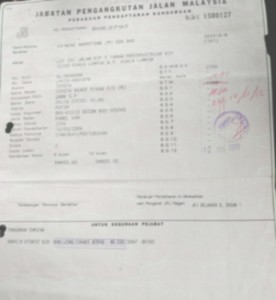 In a statement, the RTD said the VOC was also a document of registration issued under the Road Transport Act 1987, and contained details of the owner and vehicle.
For the first phase, the VOC would be issued to owners of new cars and new owners for the process of transferring ownership of vehicles, while in the second phase (beginning Sept 1), the VOC would be issued for owners renewing their road tax and owners making amendments/correction to information on the vehicle.
In the third phase (beginning Jan 1, 2017), the VOC would be issued to owners who go to the RTD office (voluntarily) to replace their RC.
"The RTD has targeted Jan 1, 2020, whereby all owners of registered vehicles would have replaced their vehicle RCs with the VOC.
"With the VOC, the delivery system of services through online transactions will be extended and implemented quickly and easily," said the statement.
The VOC is one of the transformations implemented by the department.
In a move to facilitate interactions with the agency, the RTD said the VOC would not be used as a document or instrument for transactions like the renewal of licences for motorised vehicles (road tax), transfer of ownership or amendment of information.
The VOC will not contain a print-out of the record of transactions like in the RC, while data checks can be done directly through the RTD database system. — Bernama